VACCINE CARRIERS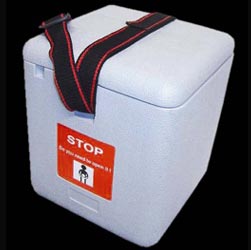 Blowkings CE, ISO Certified and WHO-UNICEF approved Vaccine Carriers are designed and manufactured as per WHO guidelines and International Standards for storage and transport of vaccines and medical products requiring safe temperature container storage. This falls under the passive cold chain equipment range. Mainly enables every person to receive a vaccination in its true essence to the even the most remote areas of the world where they generally lack electricity and basic amenities.
Temperature inside blowkings vaccine carriers are controlled with blowings CE, ISO Certified and WHO-UNICEF approved ICE Packs specially designed for cold chain purpose. Blowkings Vaccine carriers are manufactured using high quality insulating materials offering robust carriage and provide insulation from external heat environments. Our vaccine carriers are light weight and easy to carry / transport.
Blowkings Vaccine carriers are available in different sizes using materials from High Density polyehtyline. The vaccine carriers are Insulated with one of the most efficient material viz. Polyurethene Foam (PUF).
Our vaccine carriers are made of robust materials to face all transportation issues, are light weight and capable to retain the temperatures during transportation.
Blowkings Vaccine Carriers are well known for reliability, efficiency, are easy to handle and sturdy built. Our expert team is always finding new ways towards building much efficient designs to cater to our customers that work towards helping more and more people get vaccinated, and making this world a better place to live in.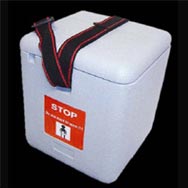 VACCINE CARRIERS
PQS CODE: E004/021, MODEL: BK-VC 1.7-CF
| | |
| --- | --- |
| SPECIFICATIONS | |
| Vaccine storage capacity | 1.7 litres |
| Weight fully loaded | 4.0 kg |
| Weight empty | 1.6 kg |
| External dimensions | 26 x 25 x28.5 cm |
| Internal dimensions | 17 x 17 x 18.5 cm |
| Vaccine storage dimensions | 10 x10 x 17 |
| Lid type & fixing | Removable- |
| External materials | High density Polyethylene (HDPE) |
| Internal lining materials | High density Polyethylene (HDPE) |
| Insulation materials | CFC Free Polyurethane Foam |
| Insulation thickness | 40 MM mm. |
| Number of icepacks required | 4 |
| Number of icepacks supplied | 4 |
| Icepack type required | 0.4 L compliant with PQS E005/IP01.2 |
| PERFORMANCE | |
| Cold life without openings | 38 hours at 43°C |
| Warm life | 13 hours at -20°C |
| Cool life | 06 hours at 43°C |
| COMMENTS | |
| Test Report: | Test report: PSB Singapore: 719171438 -EEC10 Dt: 26 May 2010 |
| Verification Protocol | PQS E004/VC01-VP.1:2008 |
| Prices based on | INCOTERMS 2009 |
| Quantity Price per unit | EX WORKS |
| Minimum Order | 8 Units |
| Shipping weight per unit | Packing 8/ Carton Gross WT: 20 kg |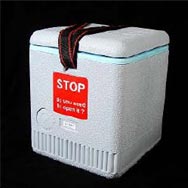 VACCINE CARRIERS
PQS CODE: E004/020, MODEL: BK-VC 2.6 -CF
| | |
| --- | --- |
| SPECIFICATIONS | |
| Vaccine storage capacity | 2.6 litres |
| Weight fully loaded | 4.5 kg |
| Weight empty | 1.9 kg |
| External dimensions | 26 x 26 x32 cm |
| Internal dimensions | 19 x 19 x 22. 5 cm |
| Vaccine storage dimensions | 11.5 x 11.5 x 19.5 cm |
| Lid type & fixing | Removable- |
| External materials | High density Polyethylene (HDPE) |
| Internal lining materials | High density Polyethylene (HDPE) |
| Insulation materials | CFC Free Polyurethane Foam |
| Insulation thickness | 40 MM mm. |
| Number of icepacks required | 4 |
| Number of icepacks supplied | 4 |
| Icepack type required | 0.6 L compliant with PQS E005/IP01.2 |
| PERFORMANCE | |
| Cold life without openings | 43 hours at 43°C |
| Warm life | 07 hours at -20°C |
| Cool life | 18 hours at 43°C |
| COMMENTS | |
| Test Report | Test report: PSB Singapore: S08EEC01362/AT/JT Dt: 28th July 2008 |
| Verification Protocol | PQS E004/VC 01-VP.1:2008 |
| Prices based on | INCOTERMS 2009 |
| Quantity Price per unit | EX WORKS |
| Minimum 0rder | 8 Units |
| Shipping weight per unit | Packing 8/ Carton Gross WT: 24 kg |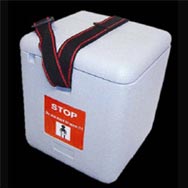 VACCINE CARRIERS
PQS CODE: E004/Under Approval, MODEL: BK-VC 3.4-CF
| | |
| --- | --- |
| SPECIFICATIONS | |
| Vaccine storage capacity | 3.4 litres |
| Weight fully loaded | 6.0 kg |
| Weight empty | 2.55 kg |
| External dimensions | 30.5x30.5x34 cm |
| Internal dimensions | 16 x 16 x 120 cm |
| Vaccine storage dimensions | 8.5x8.5x20 CM |
| Lid type & fixing | Removable- |
| External materials | High density Polyethylene (HDPE) |
| Internal lining materials | High density Polyethylene (HDPE) |
| Insulation materials | CFC Free Polyurethane Foam |
| Insulation thickness | 40 MM mm. |
| Number of icepacks required | 4 |
| Number of icepacks supplied | 4 |
| Icepack type required | 0.6 L compliant with PQS E005/IP01.2 |
| PERFORMANCE | |
| Cold life without openings | 45 hours at 43°C |
| COMMENTS | |
| Verification Protocol | PQS E004/VC01-VP.1:2008 |
| Prices based on | INCOTERMS 2009 |
| Quantity Price per unit | EX WORKS |
| 1 unit | |
| Minimum 0rder | 8 Units |
| Shipping weight per unit | Packing 4/ Carton Gross WT: 20 kg |
| BOX Dimensions | 620x620360 MM |
| Shipping Volume | 0.139 CBM |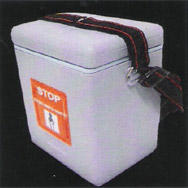 VACCINE CARRIERS
PQS CODE: E004/022, MODEL: VDC-24-CF
| | |
| --- | --- |
| SPECIFICATIONS | |
| Vaccine storage capacity | 0.9 litres |
| Weight fully loaded | 2.2 kg |
| Weight empty | 1.00 kg |
| External dimensions | 22.5x16x25 cm |
| Internal dimensions | 13 x 10 x 16.5 cm |
| Vaccine storage dimensions | 6x10x16.5 CM |
| Lid type & fixing | Removable- |
| External materials | High density Polyethylene (HDPE) |
| Internal lining materials | Polypropylene (PP) |
| Insulation materials | CFC Free Polyurethane |
| Insulation thickness | 28 mm. |
| Number of icepacks required | 2 |
| Number of icepacks supplied | 2 |
| Icepack type required | 0.4 L compliant with PQS E005/IP01.2 |
| PERFORMANCE | |
| Cold life without openings | 20- hours at 43°C |
| Warm life | 06 hours at -20°C |
| Cool life | 03 hours at 43°C |
| COMMENTS | |
| Test Report | PSB Singapore: 719169972-EEC-10/01 Dt: 1 St April 2010 |
| Verification Protocol | PQS E004/VC 01-VP.1:2008 |
| 2009 PRICES (Incoterms) | |
| Quantity Price per unit | EX WORKS |
| 1 unit | |
| Minimum 0rder | 12 Units |
| Shipping weight per unit | Packing 12 units/ Carton Gross WT: 12 kgs |