ICE PACKS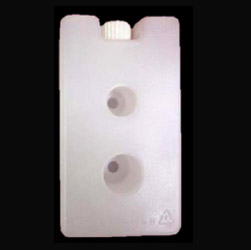 With experience of over 25 years, blowkings is engaged in offering clients wide range of Ice Packs used for cold chain boxes.
Our Ice Packs are quality tested by professionals in the field using strict quality control parameters. Our Ice packs are CE Certified and are manufactured in compliance with WHO and UNICEF policies and norms.
Blowkings today is one of the largest manufacturer of WHO-UNICEF CE certified and ISO certified Ice packs for cold chain.
Our manufacturing unit in Kandla Special Economic Zone, is devoted to developing well researched products and strict testing criteria's to improve product quality.
Blowkingsrange of ice packs are extensively used in different cold storage equipments and are known fore its excellent performance. These packs are safely packed under extreme hygienic condition ensuring free from dirt and pollution.
Blowkings Ice packs are available in various capacities, sizes, thickness and shapes matching our customers cold chain requirements.
Our clientele includes esteemed organizations such as WHO, UNICEF, PAHO, and Government bodies in India, Africa, Central America and govt. bodies across the world.
Blowkings icepacks are used in cold chain equipments. Their function is to keep the vaccines cold between a given temperature range. They are re-usable and highly durable. Our expertise in this field is working towards newer and more effeicient ways to develop an even longer ice packs.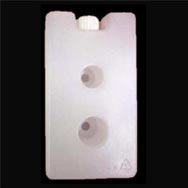 ICE PACKS
PQS CODE: E005/010, MODEL: BK V 4 H
| | |
| --- | --- |
| SPECIFICATIONS | |
| Volume of Water per Pack | 0.3 litres |
| Weight Filled | 370 gms |
| Weight empty | 70 gms |
| External dimensions | 163 x 90 x 34 cm |
| External materials | High Density Polyethylene |
| COMMENTS | |
| Test Report | PSB Singapore : EEC09/719162420/C DT 28 December 2009 |
| PSB Singapore | 719170704-EEC10 Dt 25th March 2010 |
| Verification protocol | E05/IP01.VP1: 2008 |
| Prices based on | INCOTERMS 2009 |
| Quantity Price per unit | EX WORKS |
| Minimum 0rder: | 225 Nos |
| Shipping weight per unit | Packing 225/Carton Gross WT :22 kgs |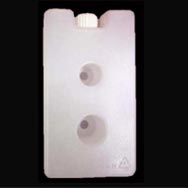 ICE PACKS
PQS CODE: E005/011, MODEL: BK 4
| | |
| --- | --- |
| SPECIFICATIONS | |
| Volume of Water per Pack | 0.4 litres |
| Weight Filled | 430 gms |
| Weight empty | 70 gms |
| External dimensions | 165 x 93 x 35 cm |
| External materials | High Density Polyethylene |
| COMMENTS | |
| Test Report | PSB Singapore: EEC09/719162420/B DT 28 December 2009 |
| Verification protocol: | E05/IP01.VP1: 2008 |
| Prices based on | INCOTERMS 2009 |
| Quantity Price per unit | EX WORKS |
| 1 unit | |
| Minimum 0rder | 225 Nos |
| Shipping weight per unit | Packing 225/Carton Gross WT :22 kgs |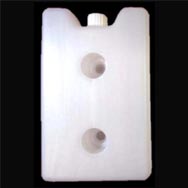 ICE PACKS
PQS CODE: E005/012, MODEL: BK 6
| | |
| --- | --- |
| SPECIFICATIONS | |
| Volume of Water per Pack | 0.6 litres |
| Weight Filled | 655 gms |
| Weight empty | 110 gms |
| External dimensions | 190x 120 x35 cm |
| External materials | High Density Polyethylene |
| COMMENTS | |
| Test Report | PSB Singapore: EEC09/719162420/A DT 28 December 2009 |
| Verification protocol: | E05/IP01.VP1: 2008 |
| Prices based on | INCOTERMS 2009 |
| Quantity Price per unit | EX WORKS |
| 1 unit | |
| Minimum 0rder | 144 Nos |
| Shipping weight per unit | Packing 144/Carton Gross WT :22 kgs |