COLD BOXES - SHORT RANGE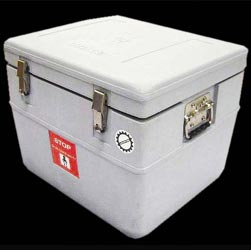 Blowkings today is one the largest manufacturers and supplier of wide variety of CE and ISO Certified UNICEF-WHO approved Cold Boxes to customers across the world.
Blowkings CE and ISO Certified UNICEF-WHO approved Cold Boxes are available in different grades and dimensions as per WHO standards.
We are among the renowned manufacturers and suppliers of wide range of quality tested Cold Boxes for our clients. These are available in different grades and dimensions and can be customized as per the clientsí requirement. Our products are manufactured using quality tested raw material procured from reliable and certified vendors in the industry. Moreover, clients can avail the entire product range in feasible rates. Our team of experts keeps an eye on all the under-going production processes to ensure that our products are free from any defect. These boxes find their application in various industries. We offer these kits at economic rates in market. Our spacious and intricately designed these boxes are available in different sizes and other specification as per the clientsí needs. All these products are made in compliance with international quality standards. As we do not compromise with the quality, so our products are well checked before offering to the clients. Durability, fine finishing and longevity are the key features of these boxes, which make them widely demanded and praised by or clients. Our path-breaking technologies and modern facilities enable us to offer custom solution to the clients. Our warehouse unit is spacious and we have transport facilities that enable us to offer the products within the short period of time.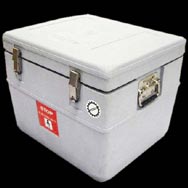 COLD BOXES - SHORT RANGE
PQS CODE: E004/018, MODEL: CB/55-CF
| | |
| --- | --- |
| SPECIFICATIONS | |
| Vaccine storage capacity | 7 liters |
| Weight fully loaded | 23 kg |
| Weight empty | 8.7 kg |
| External dimensions | 49 x44 x 49 cm |
| Internal dimensions | 35 X 28.5 x27 cm |
| Vaccine storage dimensions | 28 x 21 x 16 .5 cm |
| Lid type & fixing | Hinged- |
| External materials | Linear Low Density Polyethylene (LLDPE) |
| Internal lining materials | Linear Low Density Polyethylene (LLDPE)- |
| Insulation materials | CFC Free Polyurethane |
| Insulation thickness | 55 mm. |
| Number of icepacks required | 24 |
| Number of icepacks supplied  | 24 |
| Icepack type required | 0.4 - L compliant with PQS E005/IP01.2 |
| PERFORMANCE | |
| Cold life without openings | 89 Hours at 43°C |
| Warm life | 31 Hours at -20°C |
| Cool life | 20 Hours at 43°C |
| COMMENTS | |
| Test Report | PSB Singapore 719164472 EEC 09 Dt 26th May 2010- |
| Verification Protocol | PQS E004/CB01-VP.1:2008 |
| Prices based on | INCOTERMS 2009 |
| Quantity Price per unit | EX WORKS |
| Shipping weight per unit | Packing 1 unit /Carton Gross Wt:12 kg |